What's the Average ROAS for E-Commerce? By Platform and Industry

By

Brody Hall

Reviewed by

Romi Hector
Updated March 22, 2023.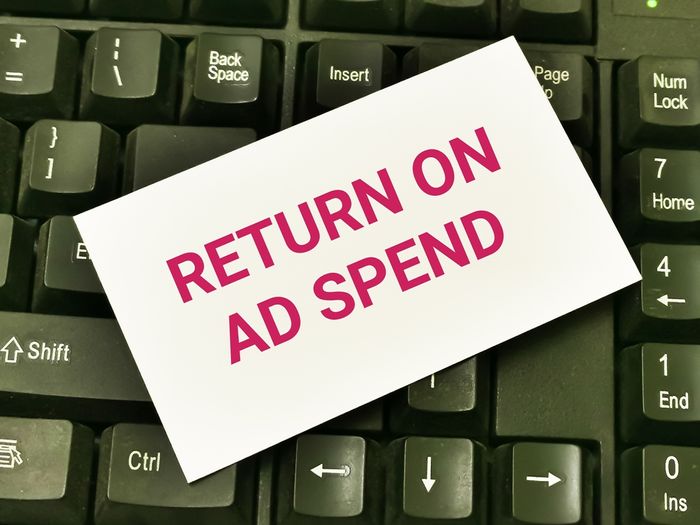 ROAS (return on ad spend) is a metric for measuring the effectiveness of an advertising campaign. Therefore, ROAS and customer retention go hand-in-hand. To calculate ROAS, first determine your conversion value (the revenue generated from conversions). Then, divide this amount by ad spend. For example, if you spend $20 on advertising to generate $100 in revenue, your ROAS is 5 or, as a ratio, 5:1. That's a return of $5 for every $1 spent on advertising.
Keep in mind that a ROAS below 1 means you're operating at a loss. A better understanding of your breakeven ROAS can help you prevent this. When your ROAS is high, your advertising is successful.
» Book a demo with BeProfit to find out how to improve your ROAS effectively
Overview of the Average ROAS in E-Commerce
An average ROAS for e-commerce is difficult to determine because it can vary greatly depending on the type of product being sold, the target audience, and the competition. Generally, the average ROAS comes in at 2.87, a ratio of 2.87:1, or a 287% return on investment.
This average varies slightly across different industries. For example, baby products average at around 3.71, while health and beauty comes in at an average of 2.82.
A higher average ROAS means a business generates more revenue from its ads than it spends on them. In contrast, a lower average ROAS indicates the business could do more to convert its ad spending into sales.
Maximize Your ROAS
Accurately pinpoint ROAS and conversion rates per platform without stress with BeProfit's easy-to-use tool.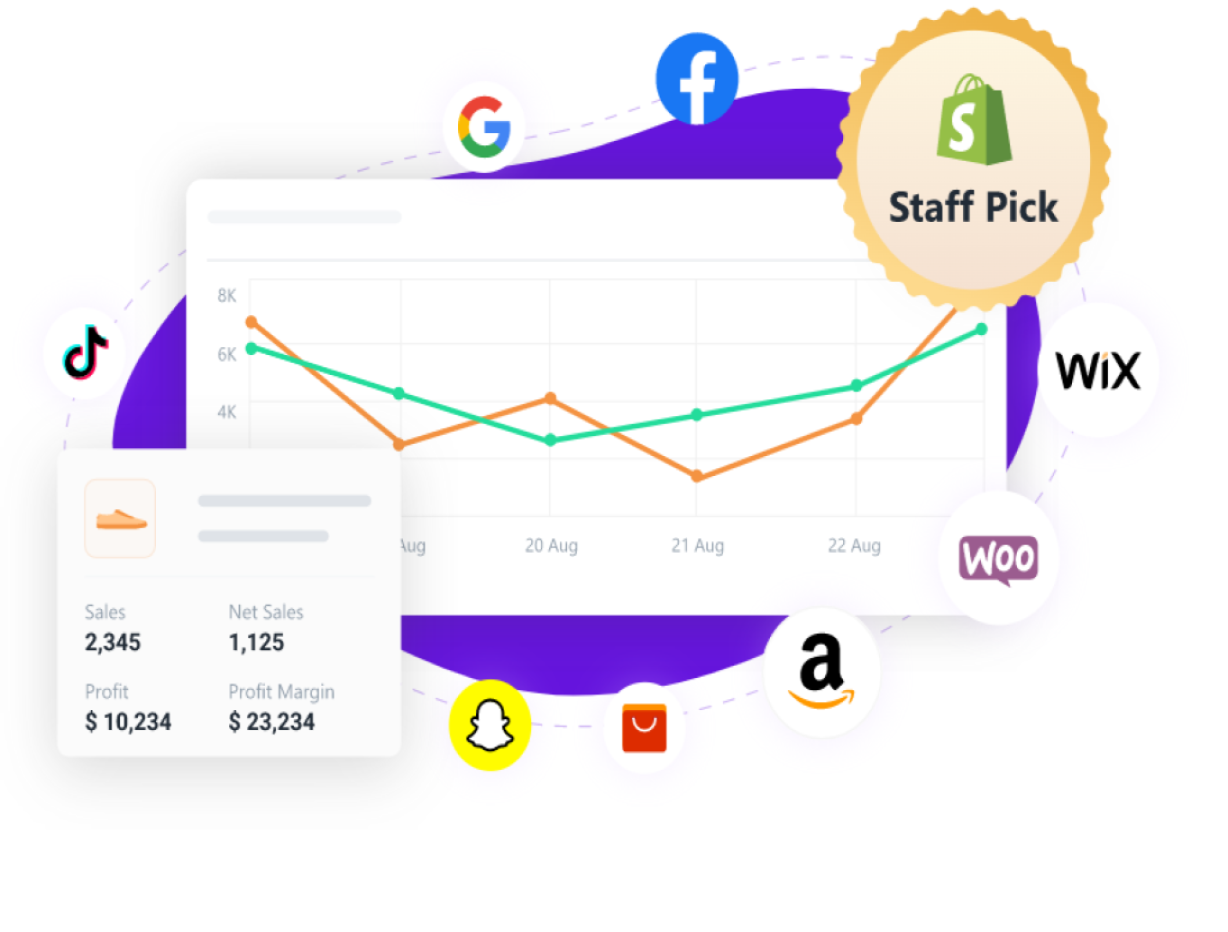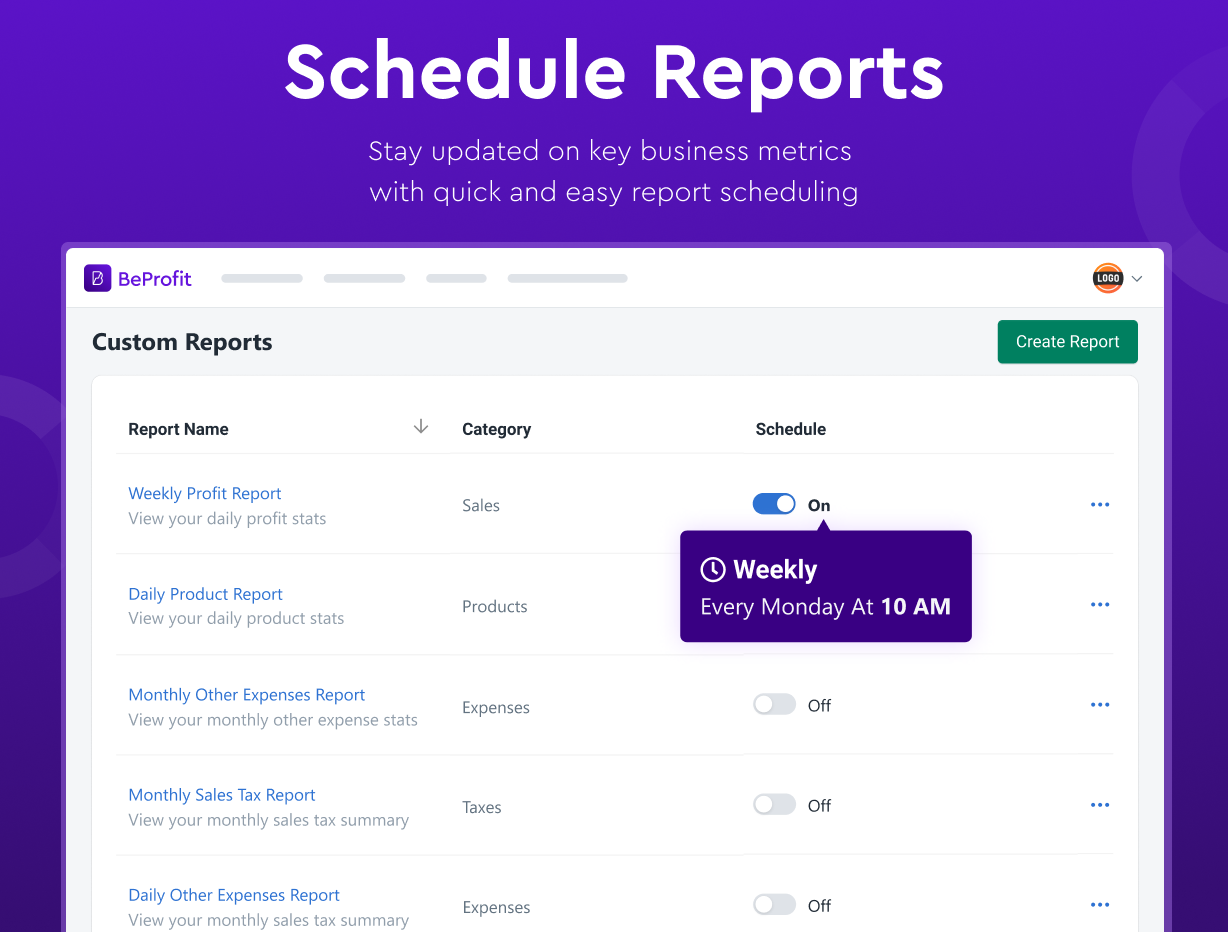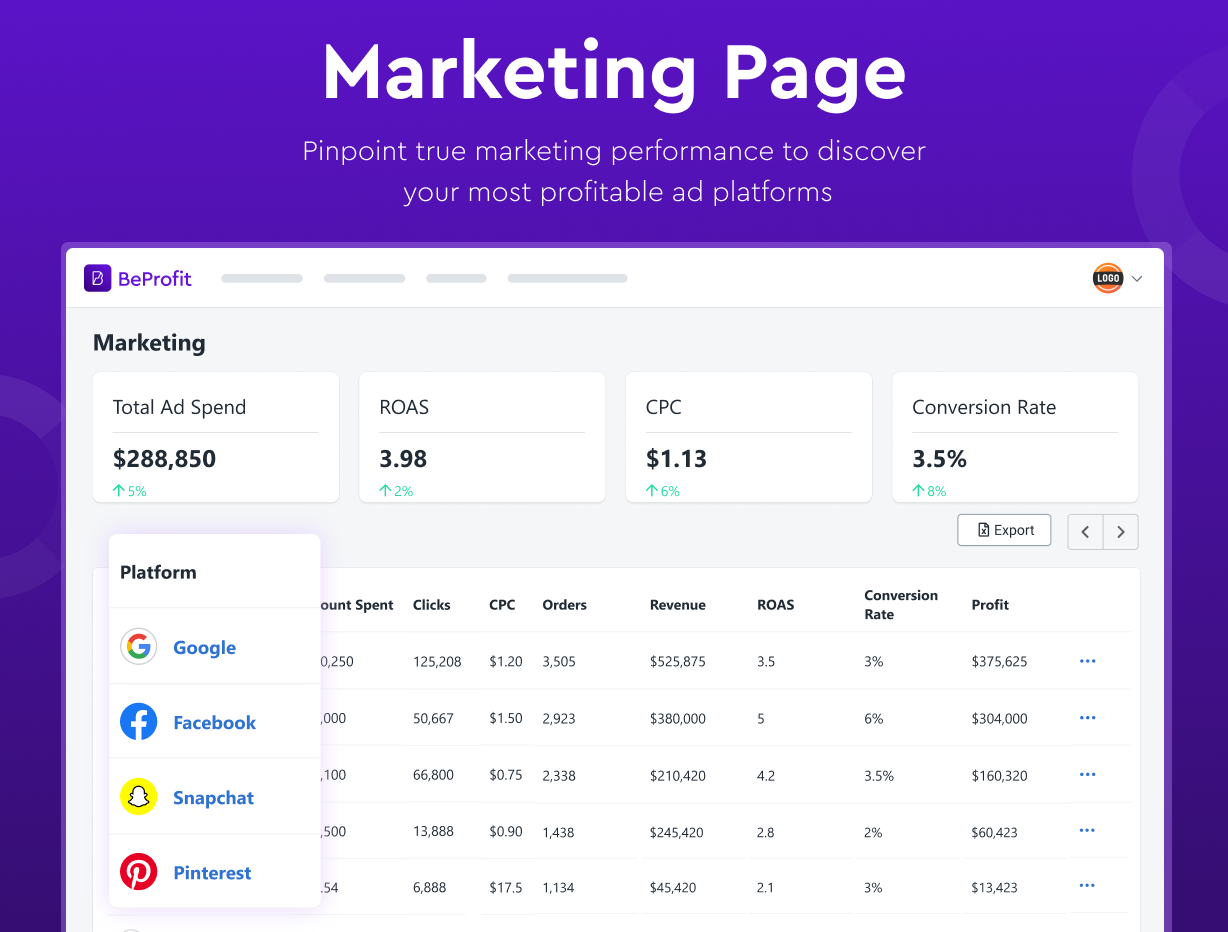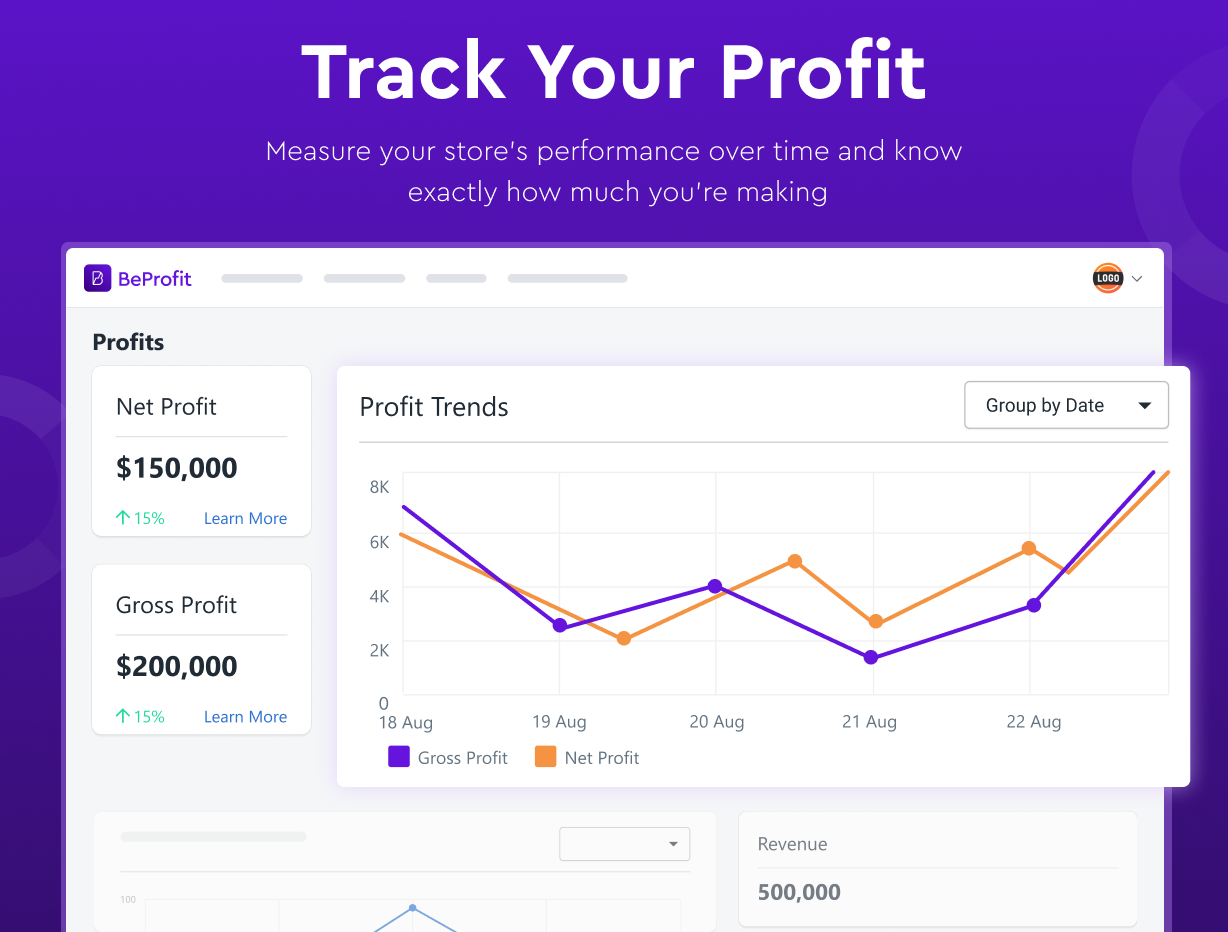 Implement innovative cohort analysis for in-depth customer lifetime value (LTV) and marketing performance data.

Personalize your dashboard's profit calculation options.

Maintain track of each data point even when information is streaming from different sources.
7 Most Used Platforms and Their Average ROAS
A good ROAS ratio varies depending on the industry and platform. However, a good rule of thumb is that, for most industries, a ROAS target of 3 or 4 is viewed as a reasonable return. This means that for every dollar spent on advertising, the business expects to generate three or four times as much in return.
Here's a look at the average ROAS you can expect on various platforms:
1. Google Ads Average ROAS: 13.76
Google is a very effective platform for advertising campaigns. Its large user base and sophisticated targeting capabilities make it an ideal platform for reaching a wide range of potential customers. Additionally, its low cost-per-click (CPC) rates make it an affordable option for budget-minded businesses.
2. Facebook Ads Average ROAS: 10.68
Facebook is a powerful platform with a large user base, so it can be a very effective way to reach potential customers. Advertisers can target their campaigns specifically to certain demographics, and Facebook also offers sophisticated tools for tracking and analyzing results.
3. Instagram Ads Average ROAS: 8.83
Instagram can be a great platform for running an ad campaign. The app has over 800 million users, and ads can be targeted to specific demographics. Additionally, Instagram offers a wide range of creative tools that can be used to create effective ads. However, it's important to keep in mind that not all businesses succeed on Instagram. Before launching an ad campaign on the platform, it's important to do some research and make sure that your target audience is active on the platform.
4. Amazon Ads Average ROAS: 7.95
Amazon can be a good platform for running an ad campaign, especially if the target audience is consumers who are already familiar with Amazon and its products. Amazon has a large user base, and its users are typically very engaged with the site.
5. Twitter Ads Average ROAS: 2.7
Twitter can be a good platform for running an ad campaign, though it depends on the goals and overall strategy of the ad campaign as well as the target audience. For example, if the goal is to increase brand awareness among a more general population, Twitter can be a good option. However, if the goal is to drive conversions or sales, other platforms may be more effective.
6. Pinterest Ads Average ROAS: 2.7
Ad campaigns on Pinterest can be effective if the target audience is engaged with the platform. However, it is important to consider what type of ad campaign would be most successful on Pinterest. For example, if a brand wants to increase awareness of a new product, they may want to use a promoted pin campaign.
7. TikTok Ads Average ROAS: 2.5
Some marketers believe that TikTok's focus on user-generated content creates a more authentic and engaged user base, which could result in higher conversion rates. However, others claim that the short length of videos on TikTok makes it difficult to convey a clear message and that the app's young demographic may not have the spending power to significantly impact sales figures.
How to Get a Good ROAS in E-Commerce
To run an effective e-commerce ad campaign and maximize your ROAS, you need to make sure that your advertising campaigns are effective when it comes to generating revenue and that you are spending your advertising budget wisely. You can do this by testing different types of ads, targeting the right audience, and optimizing your campaign settings. You should also track your results and analyze what's working and what's not so you can make adjustments accordingly.
» Discover how e-commerce advertising can benefit your business