7+ Best Shopify Dropshipping Apps to Boost Your Bottom Line

Reviewed by

Joel Taylor
Updated May 2, 2023.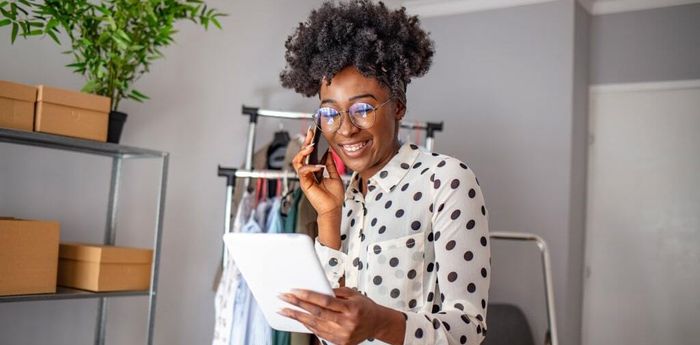 How does dropshipping work?
Dropshipping is yet another phase in the evolution of eCommerce: it's a unique business model which usually doesn't involve high risk or requires you to break your savings account on your way to success; it's a constantly growing trend all over the world and becoming a favorite way of selling online for hundreds of thousand online merchants selling on all kinds of eCommerce platforms, from Amazon to eBay, Shopify, BigCommerce and more.
So how does dropshipping work? It's simple. Dropshippers usually don't manage any physical inventory nor need to own a warehouse to store their products. The items they sell are bought in real-time from third-party sellers who take care of both order fulfillment and shipping. In other words, dropshippers function as the middlemen between customers and suppliers, making a profit by offering products of other sellers at higher prices, without having any upfront costs.
Asking yourself how to start dropshipping? Check out our 6 easy steps to help you make your first dropshipping sale.
Why is dropshipping so easy on Shopify?
The answer to this question relies on the Shopify app store. Contrary to other popular eCommerce platforms, Shopify doesn't only offer a super-intuitive tool to help you start your own dropshipping website from scratch but also collaborates with thousands of external apps, answering almost every need of online merchants to optimize their store and increase their profits.
» Discover how Wix and Shopify compare for dropshipping
Best Shopify dropshipping apps
Choosing the right app for your dropshipping business can be challenging, with more than 6,000 available apps on the Shopify app store to date. That's exactly why we've gathered a few of the best dropshipping apps on Shopify every dropshipper needs to optimize their store and boost their bottom line. Let's dive in!
Dropshipping automation apps
AutoDS by AutoDS Dropshipping Tools
Searching for an all-in-one dropshipping solution? Search no more! AutoDS is probably Shopify's #1 dropshipping automation platform.
The app is packed with features that put you in the driver's seat of your online store, covering every aspect of your dropshipping needs and automating the dropshipping process from scratch to save you time, effort, and most importantly – money.
Looking for winning items? AutoDS provides a comprehensive database of millions of products offered by over 25 global suppliers, as well as the option to easily import the ones you select to your stores. You'll also enjoy 24/7 price and stock monitoring to make sure you're always updated with everything your supplier has to offer, all in real time.
AutoDS makes it easier than ever to manage your store by providing an intuitive performance dashboard to help you track everything from products to sales, profits, tags and more. The best part? AutoDS lets you see the statistics of one or all of your stores at once under one screen, so you don't need to flip back and forth between multiple stores to see what's going on in your business.
More features by AutoDS include automatic order fulfillments, a smart filter system to sort inventory efficiently, advanced bulk editing and an advanced product optimization system which also helps you add Virtual Assistant accounts; you can give them control over any part of your store – whether adding products, editing/deleting them, processing orders, handling customer service and more.
AutoDS provides automatic tracking number updates and easy one-click returns with the Fulfilled by AutoDS managed orders system.
The app integrates with eBay, Facebook and Shopify. Soon, more selling channels will be added to the list, including Wix, WooCommerce and more.
In addition to its awesome features, AutoDS provides everything you need to know about dropshipping; its YouTube channel gives you hot product tips, tutorials, news and updates about everything dropshipping related. If that's not enough, AutoDS offers a completely free Shopify course with over 40 lessons for those who want to build a successful store from scratch, along with a Facebook community dedicated to dropshippers.
AutoDS has an excellent average ranking of 4.8 from more than 70 reviews on the Shopify app store.
SaleYee Dropshipping by SaleYee
SaleYee is a global dropshipping and wholesale platform launched in 2012. The platform makes it easy for merchants to launch and boost their online business.
With SaleYee, global online sellers can source and import over 30,000 quality dropshipping products from reliable factories at wholesale prices. The advantage of SaleYee is that merchants can focus on their marketing and sales while the rest is handled by SaleYee. They take care of all the products, inventory, delivery, and after-sales needs.
Sellers enjoy fast and free delivery from SaleYee's warehouses. To ensure fast dispatch of orders, they have over 630,000 warehouses in the US, UK, and EU.
SaleYee's dropshipping service is free. No minimum order quantity is required, and there is no inventory cost.
Their support team provides professional after-sales service as well as 1-on-1 sales consultancy.
Spocket – US & EU Dropshipping by Spocket
Spocket offers a range of features to help you stay on top of your dropshipping business. The app's products have a 30-60% discount of retail price to help you offer competitive prices and increase your sales. Spocket guarantees fast shipping, as their fair amount of product suppliers are based in the US and Europe.
More features by Spocket include auto-updating of inventory, one-click order fulfillment and real-time order tracking. If that's not enough, the app allows you to test products with sample orders and gives you the option to create branded invoices to strengthen your brand.
Spocket offers 24/7 support and has an average ranking of 4.6 from over 2,400 reviews on the Shopify app store.
Price: Starts at $24/month with a 14-day free trial. Free plan available.
Ali Orders AliExpress Dropship by FireApps
Ali Orders allows you to import products from AliExpress to your dropshipping store and fulfill orders automatically – as easily as it gets. The app provides an A-Z automation of the dropshipping process: one click order-fulfillment, shipment tracking, bulk orders, variants control and more.
The app supports the Ali Orders Chrome extension to help you filter products by shipping fees, product prices and ePacket.
Ali Orders integrates with Ali Reviews, AliExpress, Ali Hunter and more. It has an average ranking of 4.5 from more than 500 Shopify app store reviews.
Price: $19/month. 7-day free trial.
DSers-AliExpress Dropshipping by DSers
The DSers app specializes in helping dropshippers working with AliExpress. Its dropshipping automation tool lets merchants place multiple orders at once and provides exclusive access to unique suppliers.
DSers features include the option to auto-track and sync shipping information, find and edit products, create bundle offers, set country-specific suppliers, get notified of every change made to your products, and more.
The app has an excellent average ranking of 5 from close to 3,500 reviews on the Shopify app store.
Price: $1.99/month. 14-day free trial. Free plan is available.
Wiio Dropshipping
Wioo is a free all-in-one dropshipping tool for Shopify merchants; it doesn't require any monthly fees nor a minimum order quantity; the app collaborates with local suppliers to offer its users valuable products at competitive prices.
If you're looking for a place to manage your inventory, Wiio offers the option to store products in one of 3 warehouses for up to 90 days. More features include repackaging and branding, a strict quality check of products, a large variety of payment methods, and more.
Wiio Dropshipping has an average ranking of 4.8 from 50 reviews on the Shopify app store.
Price: Free to install.
Profit tracking apps
BeProfit Profit Calc & Reports by Become
"What's your bottom line?" If you asked eCommerce store owners that question, chances are a lot of them wouldn't be able to answer it accurately, to say the least. But the reality is that knowing your numbers is one of the most important things you can do to increase your chances for eCommerce success.
That's exactly what BeProfit was built for. This Shopify profit calculator gathers all your business metrics in one intuitive dashboard to help you keep track of every expense and know exactly how much you're making.
Features by BeProfit include easy creation of business reports, LTV analysis, ad performance monitoring and much more. All your data is presented in easy-to-digest charts and graphs so you can really understand your numbers and make data-driven decisions.
BeProfit has an excellent average ranking of 4.9 from 170 Shopify app store reviews.
Price: Starts at $25/month with a 14-day free trial. Free plan is available.
Summing Up
The extreme variety of apps on the Shopify app store is obviously great news, but can also trigger some difficulties by making the process of choosing the right dropshipping app for your store a bit confusing.
Before making a decision, ask yourself exactly what are your needs and goals; carefully read what other users have to say, as reviews will give you a glimpse to the true value of a certain app. Make some time to do some reading and filtering, and create a short list of finalists to choose from.
Need some tips for creating a store that sells? Check out these 4 key points to consider about Shopify dropshipping.