TikTok vs. Facebook Ads for E-Commerce (2023): Which Is Best?

By

Daniël de Jager

Reviewed by

Michelle Meyer
Updated March 23, 2023.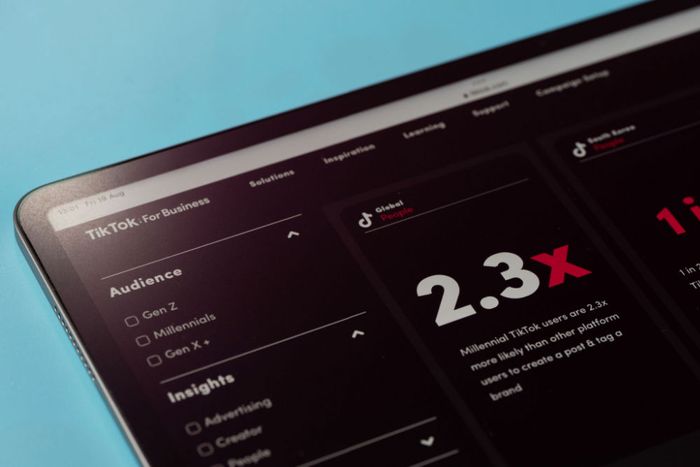 You may be wondering: is it worth it to invest in TikTok ads as part of e-commerce marketing in the upcoming year? Or maybe you were thinking of running some Facebook ads to get more customers to visit your e-commerce store. Marketing is more than just running ads—your business and products will perform much better when viewed by an audience on a channel aligned with your brand's values and offerings.
» New to e-commerce ads? Browse this ultimate guide to effective e-commerce ads
Comparing 5 Key Metrics
The key performance indicators (KPIs) for a marketing channel, such as Facebook and TikTok ads metrics, are the first pieces of information a marketer needs. This will give them the data they need to determine whether it's the right choice. In light of this, consider the five metrics provided below.
1. Cost Per Mille (CPM)
CPM is the cost charged by the channel per 1,000 ad impressions.
TikTok ads were inexpensive at launch in 2019, with a CPM of $1, but that number has since climbed to an average CPM of $10, depending on the ad format. For instance, the average TikTok Spark ads cost per mille is 4% lower than the other ad formats.

Facebook's CPM depends on your audience and advertisement settings, ranging between $7 and $20 in the past year.
2. Cost Per Click (CPC)
The average TikTok ads cost per click is $1, depending on the ad format used.

Facebook ads are generally less expensive, costing between $0.60 to $1.50 per click.
3. Average Return on Advertisement Spend (ROAS)
The average ROAS on TikTok is usually around $1.20 to $3 per $1 spent, with

ROAS increasing as more ads and formats are used

.

Facebook ads aren't as lucrative as other platforms, bringing only an average of $2 ROAS (often under $1 for B2C e-commerce ads).
4. Average Click-Through-Rate (CTR)
CTR is the ratio of impressions to clicks.
Because TikTok is more exclusive with less advertisement saturation, its CTR is 1% to 5% for in-feed ads, 7% to 10% for brand take-over ads, and 16% for top-view ads.

Facebook CTR sits at 0.5% to 1.6%, depending on your industry, with most e-commerce campaigns around 1% CTR.
5. Average Conversion Rate (ACR)
ACR is the king of ad metrics, comparing clicks to conversions.
It's difficult to find reliable data on TikTok ads' ACR, but you can expect an ACR of 1.5% to 3%.

Facebook ad ACR ranges widely from 2% to 15%, with an average of 4% for e-commerce ads.
One-Click Syncing for All Your Expenses
BeProfit's Profit Analysis Dashboard syncs automatically with the most popular advertising platforms.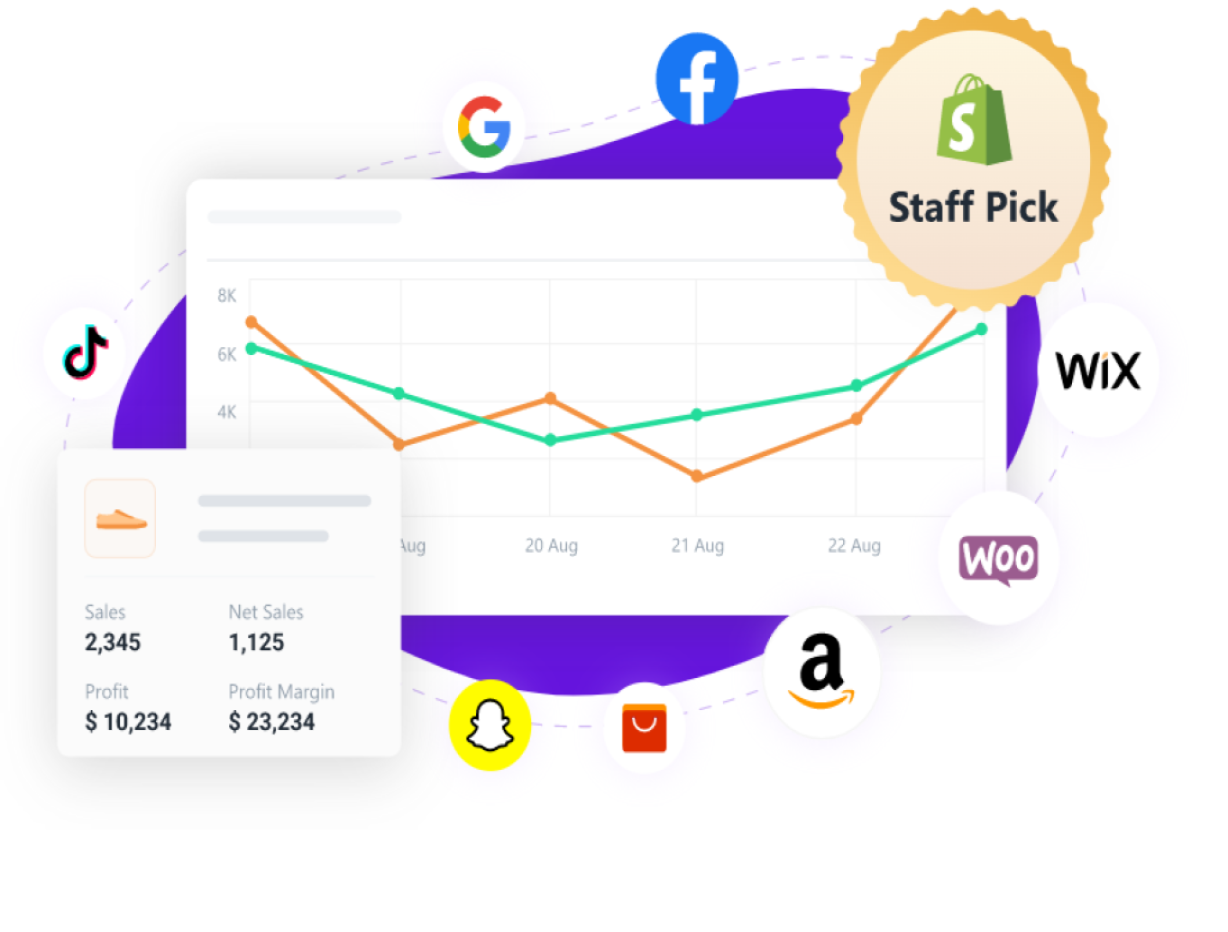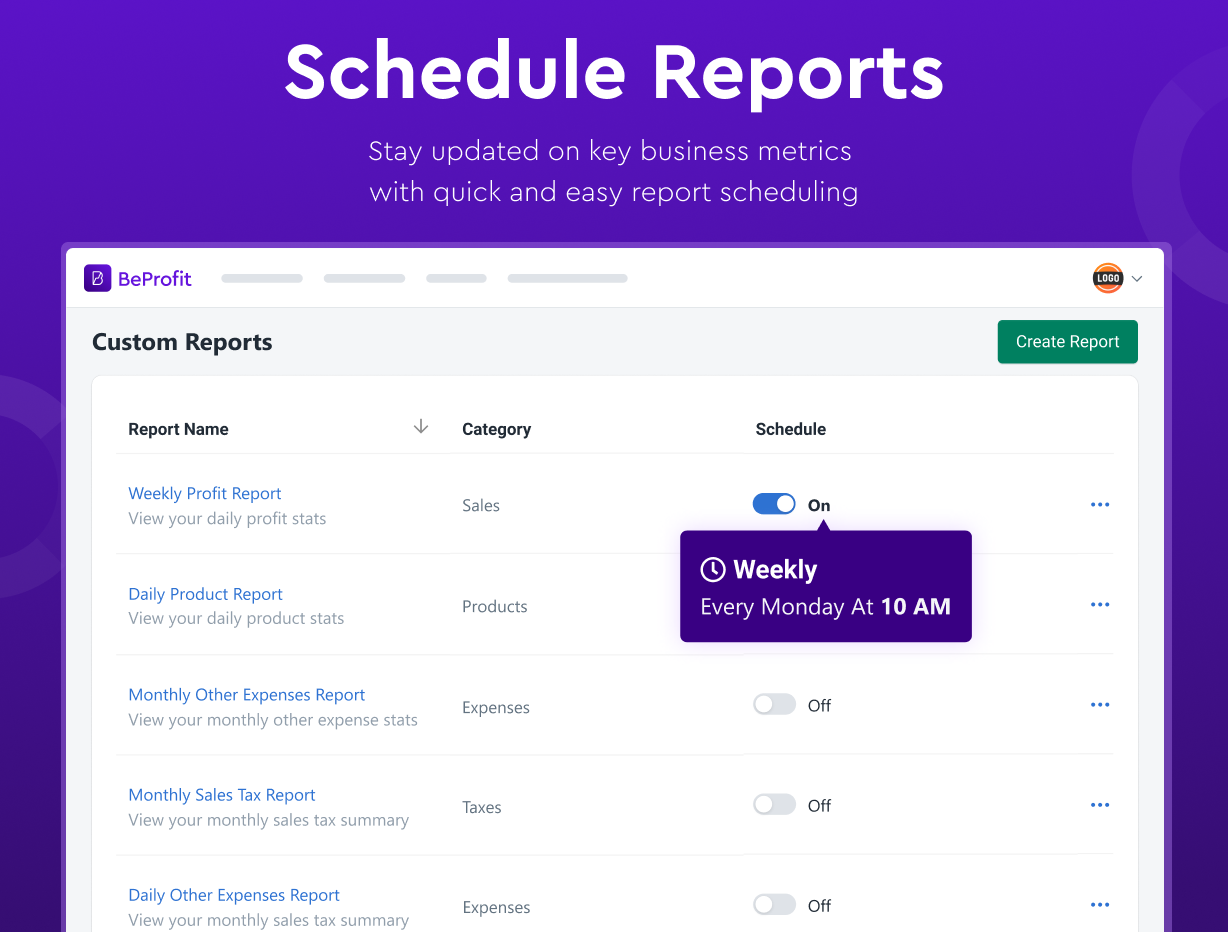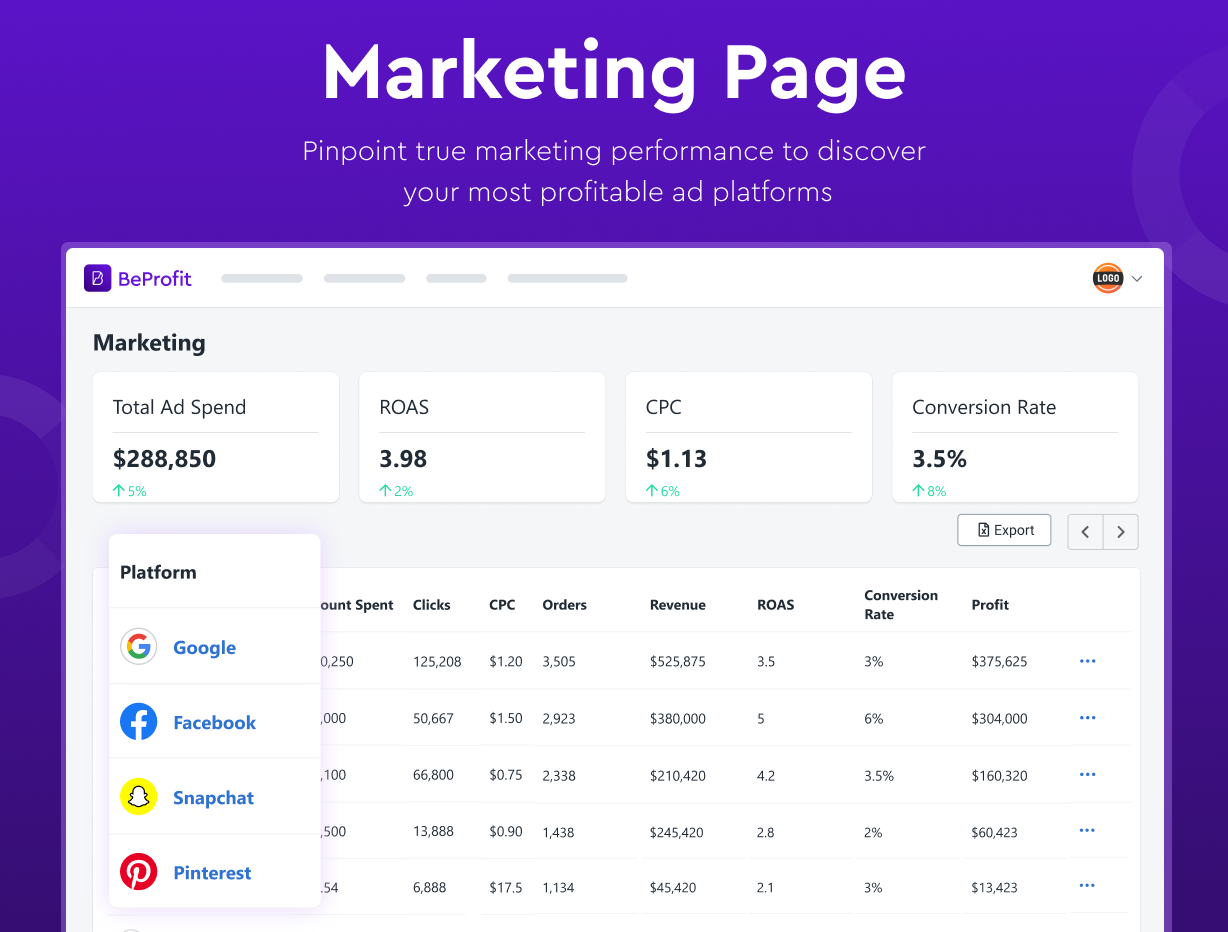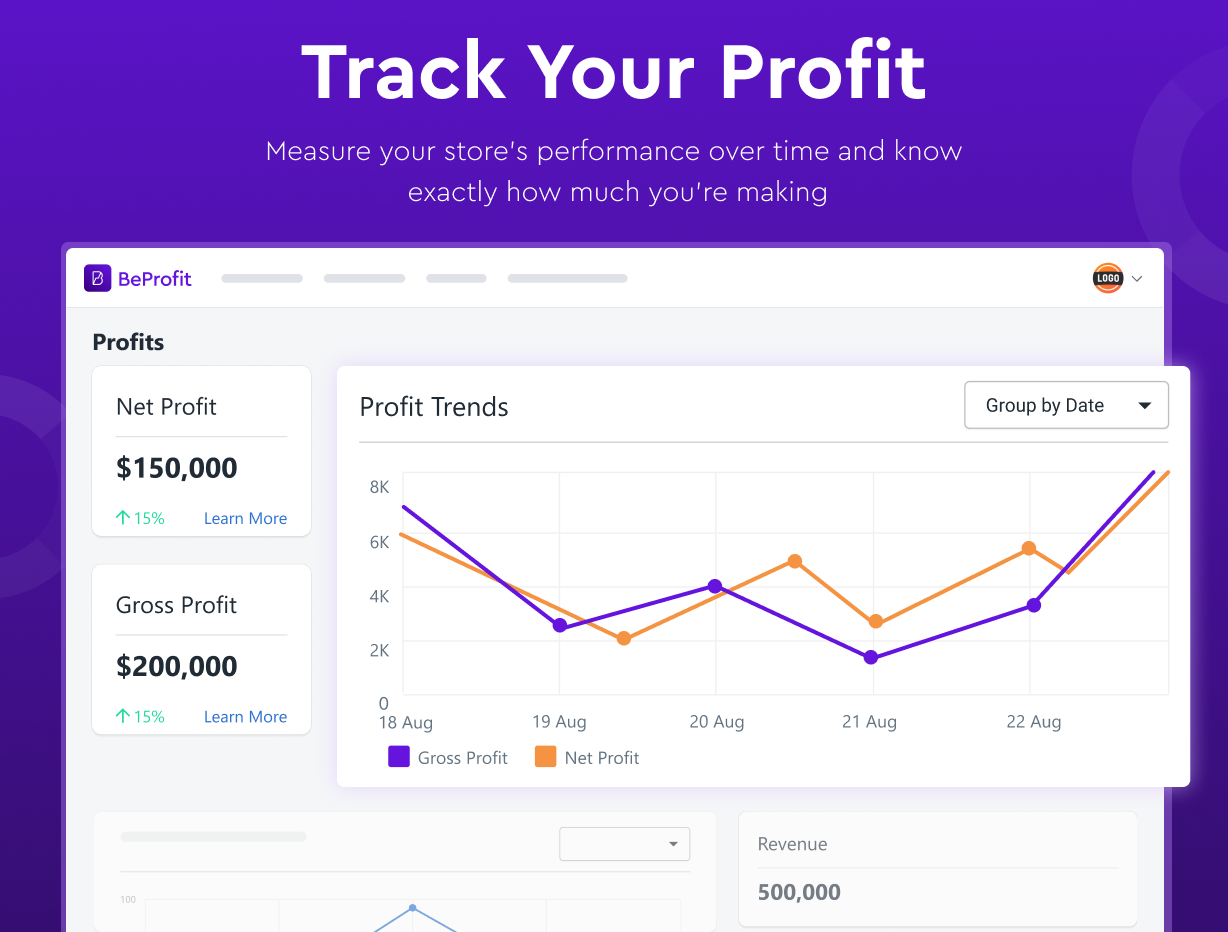 The app provides real-time reports on KPIs, shipping costs, processing fees, and more.

Use UTM attribution to determine ROAS and conversion rates by platform, as well as best-selling products.

Use the app anywhere and at any time, whether on a desktop or mobile device.
Facebook Ads Considerations
Benefits
Detailed targeting

Facebook has built up an advanced advertising algorithm that can target the exact market you want at the click of a button. Post-campaign, Facebook will suggest more demographics to help you hone your

Facebook ads strategies as an e-commerce store

.

Large user base

With over nearly 3 billion monthly active users (MAU), Facebook can expose your e-commerce business to more potential customers than any other social media platform. Parent company Meta also owns Instagram, giving you easy cross-advertising capabilities to another 2 billion MAU platform.

Built-in A/B testing

Within the Meta Ads Manager and without any extra tools, you can perform A/B testing to see what works and get instant, real-world results.

Exceptional tracking and analytics tools

Facebook gives you some of the most powerful tracking and analytics tools available, backed by decades of experience.
» Should you use Facebook's campaign budget optimization (CBO)? Learn how your campaigns can benefit from CBO
Drawbacks
Time-consuming at the beginning

Facebook is notoriously difficult for new marketers to learn. It also requires a lot of manual work to get your ad campaigns going at the start.

Not preferred by many marketing agencies

While they definitely won't ignore the platform because of its vast user base, many agencies prefer working on other platforms with more intuitive advertising dashboards and different audiences.
TikTok Ads Considerations
Benefits
Largely untapped audience

Countries where Facebook and Instagram have typically been less popular are often a breeding ground for TikTok users, giving advertisers access to an untapped audience.

A younger and more receptive audience

TikTok is immensely popular among younger generations. If an online business can create ads that are relatable and engaging to this young audience, it will find them more receptive and responsive than older audiences.

Influencer marketing opportunities

Like Instagram, TikTok lets you work with influencers to engage their audience directly.
» Struggling to create the perfect TikTok ads? Follow this guide to TikTok ads for online store owners
Drawbacks
Lacking guides and info

Because TikTok is a relatively new platform, there isn't much information available online to help you get started or if you get stuck.

Limited formats

In-feed ads, brand take-over ads, top views, spark ads, and hashtag challenges are the only ad formats available on TikTok. Other platforms like Facebook offer a wider variety of ad formats and media types.

Basic analytics

Because its ad platform is still relatively new and growing, TikTok doesn't provide as powerful analytical insights as Facebook does.
Consider Your Business Objectives
When advertising e-commerce products, you will need to consider the pros and cons of all available options, given your business objectives, to decide what is the best for you. If you need help making data-driven decisions to better optimize your marketing strategies, take a look at BeProfit's Profit Analysis Dashboard, the most accurate profit calculator and data analytics dashboard for e-commerce businesses, and start reaping the benefits of online marketing.
Learn more about how BeProfit's dashboard can help you monitor and analyze marketing expenses with cutting-edge accuracy: