Wix vs. Shopify for Dropshipping: Which Is Better?

By

Brody Hall

Reviewed by

Joel Taylor
Updated May 2, 2023.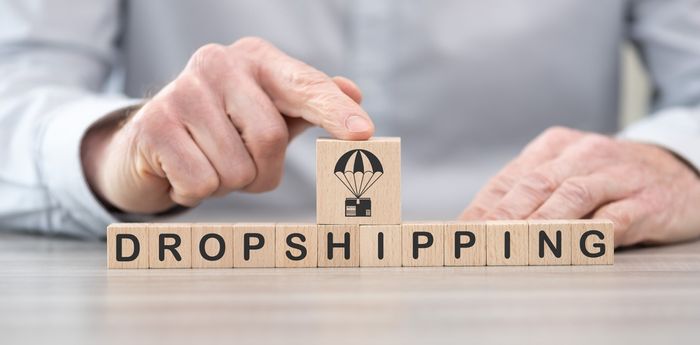 The dropshipping business model is a popular strategy for small businesses. It eliminates the need to care for inventory and completely neutralizes the expenses of a brick-and-mortar store.
Maintaining a physical store is expensive and time-consuming. Dropshipping eases these burdens by facilitating a competitive advantage over physical stores, primarily by minimizing upfront and ongoing costs. For instance, a third-party fulfillment company handles the ordering, shipping, and the rest—eliminating inventory and warehousing costs.
The question then becomes which website builder offers the best dropshipping features. Both platforms allow e-commerce entrepreneurs to operate their online store, but when it comes to dropshipping, the two have some key differences that you'll want to consider before making your final decision.
» Is dropshipping profitable? Discover dropshipping challenges and best practices
Pros and Cons of Wix
Pros
Recently added dropshipping options

. Wix has recently added a ton of dropshipping functionalities to its platform. Most notably, merchants can now connect their stores to the Modalyst marketplace, where they'll access vetted suppliers and an infinite range of products.

2 business plans with built-in dropshipping

. Wix now offers 2 business plans that boast dropshipping integrations.

Inbuilt SEO

. Wix's pre-configured search engine optimization capabilities are a significant advantage when it comes to SEO.

Easy to use

. Wix is an easy-to-use platform with intuitive features and a user-friendly interface.

Lots of customization

. Wix's website builder works from a drag-and-drop interface, offering lots of templates, themes, and visual templates to choose from.
Cons
Expensive to list lots of products

. Wix's compatible dropshipping plans can get quite expensive for larger lists of products.

Modalyst fees

. Although Modalyst is a great dropshipping marketplace, it charges merchants a 5% transaction fee for each purchase.
» Wix vs. Shopify: Discover which is better for e-commerce
Pros and Cons of Shopify
Pros
Extensive range of e-commerce features

. Shopify offers a variety of features that allow you to upload your products and sell them directly to your customers.

Limitless growth, flexibility, and scalability

. You can easily scale your operation and increase your business by adding more products, growing your customer base, and even hiring Shopify experts to help along the way.

Complete control over your inventory

. There are no restrictions over how many products you can sell using the platform.

Social media integrations

. You can easily reach a large customer base and increase sales by adding your products to social media like Facebook, Twitter, and Instagram.

Great shipping options

. Shopify offers international shipping, allowing you to ship products to your customers in over 190 countries.
Cons
Ethically questionable

. Shopify has been criticized for not being as transparent as they should be on their terms and conditions.

Less affordabl

e. Shopify starts at $29/month; however, the costs rise quickly after that.

Limited flexibility

. Shopify isn't as customizable as other e-commerce CMS platforms with limited themes.
» Looking for a Shopify dropshipping app? Compare the best Shopify dropshipping apps
Cost of Dropshipping
Depending on which dropshipping marketplace merchants connect to their Wix or Shopify store, prices will vary. For instance, Wix and Shopify are both compatible with Modalyst, Spocket, Salehoo, AliExpress, and many more. Both platforms charge additional fees for dropshipping suppliers and targeted ad expenses, which is an average monthly cost of $79.
There are 2 main pricing considerations for selling products on Wix:
Platform plan:

$17-35/month

Website domain hosting:

$5-20/year
Dropshipping with Shopify is the same in this regard:
Platform plan:

$29-299/month

Website domain hosting:

starting at $14/year
The Final Verdict: Which Platform Should You Use?
Dropshipping through Shopify offers merchants more options, but Wix is also a great option to use. With the choice, you should consider how complex your business is and what sort of features you need. Shopify is very flexible when it comes to dropshipping as it has a wide variety of e-commerce dropshipping-based features. While, year after year, Wix's platform is becoming more and more dropshipping friendly, adding functionalities that are sure to benefit most dropshipping entrepreneurs who would like more customization options.
» Want to try dropshipping on other platforms? Here's all you need to know about dropshipping on Amazon