Ransom Spares Optimizes Business Efficiency and Profitability with BeProfit

By

Staff Editor
Updated August 2, 2023.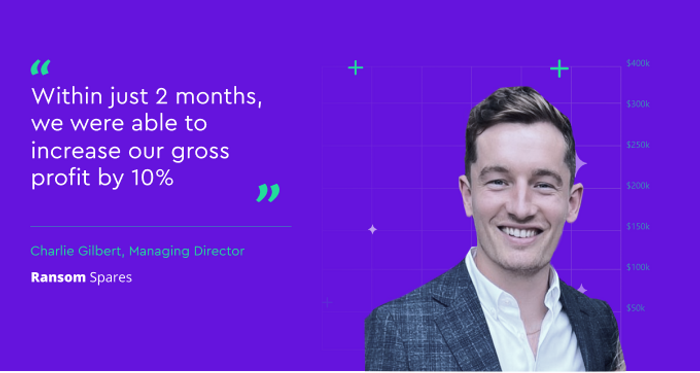 Ransom Spares is more than just a spare parts wholesaler and retailer for home and garden appliances. It's a family company based in Somerset, UK, that believes in a 'make & mend' culture instead of a 'throwaway society'. By selling the parts and showing customers how to fix their appliances themselves, Ransom Spares helps them save money, and not less importantly, the environment.
But running a business like this is not easy. With three different channels - their website, eBay, and Amazon - Ransom Spares had to deal with a huge amount of data from various sources.
Managing Director Charlie Gilbert wanted to "talk facts" and not rely on his 'gut feel'. He needed a clear picture of his unit economics across multiple platforms, suppliers, and thousands of products.
Product Analytics to Improve Service, Cut Returns, and Reduce Losses
Ransom Spares had a lot of data to handle. Selling across different channels with different pricing and multiple suppliers, the company needed to know the gross profit of every item they sold. But figuring out the profitability of each product was a huge challenge.
Ransom Spares wanted a solution that could not only crunch the numbers and give them real-time reports but also help them increase gross profit. By knowing their most returned items for each channel, they aimed to cut losses and improve customer satisfaction by selling only durable items.
Screen is just an example


"It was almost impossible for me to say 'this is our most returned product for this particular channel' - it would take a long time to get that data." - Charlie Gilbert, Managing Director
The Cost of Ignoring the Data Problem
Ransom Spares didn't want to fall into the trap of being busy without being profitable. The lack of needed data availability risked sending out products that were unprofitable or defective, resulting in wasted time, money, and damage to their reputation. They wanted to avoid becoming what Charlie called "busy idiots":
"This would basically be somebody who's running around the warehouse very busy shipping out goods, but at the end of the month they're going to find they haven't made any money."
The Unbelievable Results
The Ransom Spares team was amazed by how BeProfit helped them understand and improve their profit.
In just two months, Ransom Spares managed to:
Increase their gross profit by 10%, saving hundreds of thousands of dollars.

Eliminate hours of managing their reports each day.

Improve customer service by reducing return rates.

Build trust and brand perception by selling more reliable products.
Let's Uncover the Secret to How They Did It
Identify and address product return issues
With BeProfit's Returns Analytics, they instantly saw their most returned products by return rate.
They removed a number of listings from all 3 channels.

And put the prices up to keep being profitable.
"Some items we don't sell at all anymore which is actually a good thing because we were losing money every time we sold one."
Optimize supplier relationships and advertising strategies
Using BeProfit's product analytics, Ransom Spares found its most cost-effective suppliers.
They optimized their procurement strategy by prioritizing the most profitable suppliers.

And set optimal selling prices for each product.
Screen is just an example


They measured the profitability of their advertising across different platforms and optimized their campaigns.
"As we advertise on Google, eBay, and Amazon, we have to figure out our advertising across each product, as well as the profitability of our advertising, and this is also a huge benefit with BeProfit."
Screen is just an example


A Partnership Based on Flexibility, Support, and Communication
Ransom Spares had a clear vision of what they wanted from a software solution: flexibility to handle data from any source, support to make them feel looked after, and communication to keep them updated and involved.
They had tried other solutions, but none of them could match their vision. Charlie felt like he was in a partnership rather than a transaction. He also liked that he could challenge BeProfit to do new and exciting things that would help his business and other customers as well.
"I actually came up with a few things or spoke about different scenarios we would need, and BeProfit literally rolled it out to everybody."
The Bottom Line
Ransom Spares' partnership with BeProfit has made a huge impact on its profitability, product portfolio, operations, and overall conduct. From being put off by their huge mass and non-organized financial data, Ransom Spares turned into profit metrics enthusiasts, basing a lot of their business decisions on the insights that BeProfit's reports provide.
"BeProfit opened our eyes to what is possible with our business and how much more we can improve and become more efficient, and ultimately become more profitable, without even knowing that we could."
He also gave BeProfit the ultimate compliment: "I wouldn't recommend you to any of my competitors, and that's a very good thing."