From Financial Fog to Profitability: Plastic Bag Partners See 5% Rise in Net Profit

By

Staff Editor
Updated September 14, 2023.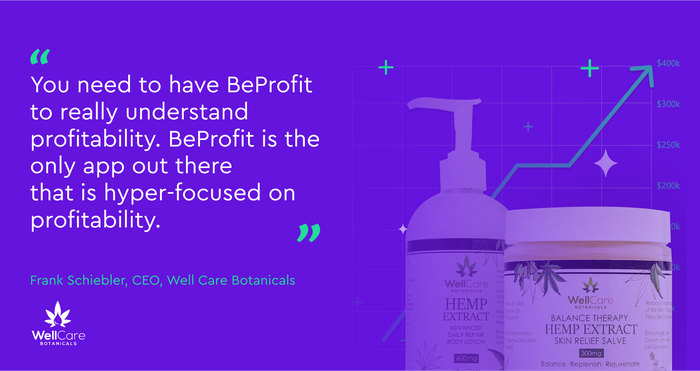 Frank Schiebler is a dedicated entrepreneur leading two thriving eCommerce businesses.


With Well Care Botanicals, he has spent the last three years providing consumers with high-quality hemp extract products, crafted under a doctor's expertise.
Simultaneously, with over a decade in the game, his venture Plastic Bag Partners distributes top-notch poly products to businesses nationwide.


Between managing these businesses, Frank struggled to gain financial insights to improve his overall business health.


"Since 2011, I've been trying to find a reporting software that allows me to bring in all my costs," Frank, Schiebler Founder.


From 7% in Net Profit Margin to 12%
Using BeProfit, Frank's managed to increase Plastic Bag Partners' net profit margin by 71%.


How did he do it?
While sales and cost of goods are straightforward to calculate, the real task lay in accounting for everything - from marketing, Frank's biggest expense, to daily operations.


This limited visibility of their net true profit, after deducting all their expenses, led him to overshoot on advertising expenses, mistakingly thinking they were securing a good return. As a result, they ended one year in the negative. Determined to avoid a repeat of this setback, Frank searched for a solution that would provide full clarity on profits.


BeProfit Dashboard
Screen is just an example


We tried dozens of solutions over 12 years. Dozens. There are plenty of apps on Shopify to bring in and test out, and we tried many, but they all had some kind of shortcoming; none of them did it all the way BeProfit does."

Frank Schiebler, CEO, Well Care Botanicals and Plastic Bag Partners


Implementing Integrated, Comprehensive Financial Reporting
BeProfit became the solution Frank visits on a daily basis, offering him critical insights into profits and ensuring every move he makes brings him closer to healthier business management.


Getting started with Well Care Botanicals was a breeze for Frank: "I was up and running in just 20 minutes." However, integrating Plastic Bag Partners, which had 11 years of data, was more complex. But with support from BeProfit's team, Frank was able to access insights from the very first day in business.


All-in-One Financial Reporting Solution
Frank was constantly shifting between platforms – Google Ads, Shopify, and Google Analytics. This not only was time-consuming but also posed challenges in retaining data across platforms. BeProfit streamlined this, to a unified dashboard for all crucial metrics.


BeProfit definitely saves time, but to me just to have it all right there makes it so much easier for a human to digest the information and make good decisions".

Frank Schiebler, CEO, Well Care Botanicals and Plastic Bag Partners


For the first time, Frank was able to look at one platform and have all the information he needed. Being able to see the entire financial picture, especially marketing costs, became a game-changer.


That's the cool thing about BeProfit - it's focused on profit, which is the single most important thing at the end of the day".

Frank Schiebler, CEO, Well Care Botanicals and Plastic Bag Partners


Reducing Expenses and Eliminating Money Waste
With a clearer, consolidated view, Frank identified the most profitable strategies in Google advertising, ensuring he gained the most from every advertising dollar.
"BeProfit tells me if I'm spending too much, and basically if my marketing is working or not."


Last year, we had a total net profit margin of about 7%. Now we've been averaging around 12%, so we almost doubled our profit with BeProfit."

Frank Schiebler, CEO, Well Care Botanicals and Plastic Bag Partners
Marketing Analytics
Screen is just an example


When I launched BeProfit, I immediately knew this is exactly what I was looking for, for over a decade. It was an Ah-ha moment'."

Frank Schiebler, CEO, Well Care Botanicals and Plastic Bag Partners


BeProfit is where you need to be - you need to have BeProfit to really understand profitability, because we run a business to be profitable, and BeProfit is the only app out there that is hyper-focused on profitability."

Frank Schiebler, CEO, Well Care Botanicals and Plastic Bag Partners