How Suntouched Double Their Profits and Cut Expenses in Half

By

Staff Editor
Updated August 7, 2023.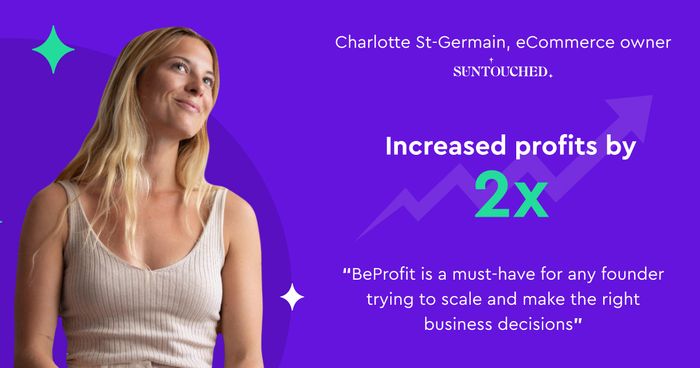 Suntouched is a fast-growing eCom brand that specializes in hair lighteners. Founded two years ago by Charlotte St-Germain, Suntouched has expanded its online presence from Shopify to Amazon, reaching customers in the US, Europe, and Canada.
One of Charlotte's biggest challenges was managing cash flow. She used to ignore the numbers and focus on the products, but as the business scaled up, she realized she needed to track her return on investments, especially for paid advertising. She wanted to know how much she was spending and earning on each channel and campaign.
That's why she decided to look for a solution that could help her optimize her cash flow and gain more visibility into her financial performance. She wanted a tool that could simplify her accounting, automate her reporting and provide insights into improving her profitability.


If I had to sum up BeProfit, I would say this tool is a must-have for any founder trying to scale and make the right business decisions for their brand's profitability."

- Charlotte St-Germain, Founder & CEO of Suntouched
Making Short-Term Decisions Based on Inaccurate Data
Charlotte admits that juggling endless tasks as a solo eCom founder can be draining — and that finances are her least favorite responsibility. Early on, she got away with very basic startup analytics to stay afloat.
Soon enough, the company's reliance on inaccurate financial data led to premature expansions, rushed decisions, and a dwindling financial runway. They wound up expanding the team too soon based on Shopify sales numbers, rather than true gross margins or net profit.
Her brand's challenges with nailing profit margins eventually led Charlotte to BeProfit.


As a solo founder, you take care of everything, and finances are just not my favorite aspect of the job. It got to a point where, although the sales were coming in as our top line increased, we didn't know where the money was truly going."
From Data Confusion to Data Visibility
The Suntouched team tried a handful of analytics tools, such as Triple Whale, but found these were ultimately incompatible or overpriced when the brand needed to be cutting costs.
Fortunately, Charlotte was eventually connected to BeProfit by friends in the eCom founder space. "They just sounded so happy with the real-time insights," she explains.
From there, BeProfit and Suntouched hopped on a call, tailoring the platform to meet the brand's unique needs and omnichannel setup. After an easy sync with their commerce and ad profiles, Suntouched was ready for more data visibility and accuracy than ever before.


The team at BeProfit has been super responsive and optimized everything for my brand's needs. I've received really amazing support in our experience together."


Suntouched has leveraged BeProfit to dramatically boost profitability — in three steps:


Gaining an accurate & comprehensive view of current finances
Before BeProfit, Charlotte received monthly P&Ls, which were often confusing and inconsistent, from her accountants. Now, Suntouched has seen "a huge difference" in data accuracy.
As a result, the brand has been able to come to terms with the reality of its finances. Despite believing they were profitable, BeProfit shed light on the fact that Suntouched had been in the red for several months and unfortunately needed to reduce the size of their team.
"It was so hard," Charlotte emphasizes, "but it showed me the resources we had to work with and helped us spend within our means."


Slashing Expenses
After teaming up with BeProfit, Suntoched has gained a clear, accurate view of its finances.
Suntouched has more than halved its expenses for a roughly 60% reduction.

They save anywhere from 5–10 hours per week of manual data analytics labor.

Reduced expenses and data-informed budgeting have doubled their profits.


I expected BeProfit to give me a stronger understanding of my basic numbers. What actually happened is it completely transformed my business for the better."
Identifying profit centers to allocate runway accordingly
Suntouched turns to its profit analysis dashboard to know its numbers and make the highest-ROI decisions on a daily basis. For instance, if returns are climbing for one social channel, Charlotte will ping her buyer to start scaling that creative.
Or, in another instance, Charlotte was surprised when BeProfit demonstrated that Amazon was the Suntouched team's greatest profit driver. While the brand's top line is higher on Shopify, factors like cheaper ad spend mean they receive ample organic traffic and sales on Amazon.
As a result, Suntouched used the data and put more funds toward maximizing that profit center (as opposed to focusing on Shopify for ultimately fewer returns).


Saving time & money
Thanks to BeProfit's dashboard, which provides a centralized look at all of your real-time eCom data, Suntouched can easily view their Shopify, Amazon, and ad performance on one screen.
No more switching between endless tabs, sales channels, and ad managers to understand your net profit, revenue, gross margins, and much more. "It's a huge time-saver," says Charlotte. In addition to time and effort, Suntouched also saves on people's costs.
Previously, Charlotte had to hire staffers to manually manage financial data, and delays in communication led to delays in course-correcting their spending. Today, Suntouched can instantly view its data and make informed, profit-driving business decisions.


I definitely use BeProfit on a daily basis. When I open my laptop [or phone], I go to my dashboard right away. It's made a huge difference in terms of just knowing where to put more funds and focus."
Growing with Their Financial Partner
Looking forward, Charlotte has an impressive vision for the growth of Suntouched. And she anticipates scaling with BeProfit as her financial partner all the way. She calls the platform "a layer of security" for her company, always keeping operational costs lean while opening up Suntouched to maximum profit margins.