12 Essential Strategies to Maximize Profits on Black Friday Cyber Monday for E-commerce Businesses

By

Staff Editor
Updated August 10, 2023.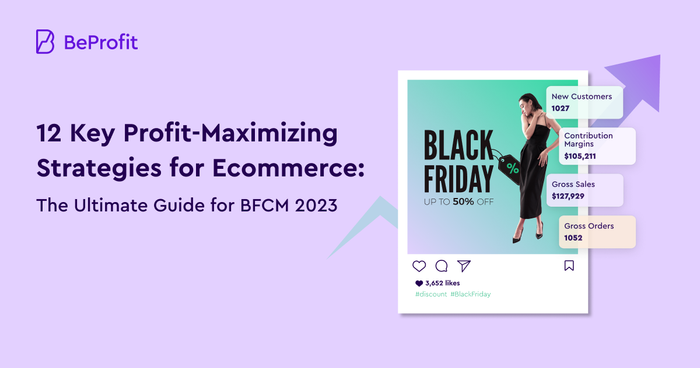 As the calendar flips to November, the anticipation of the holiday shopping season begins to build. Retailers and consumers alike are gearing up for two of the most significant shopping events of the year: Black Friday and Cyber Monday. These annual events have become a beacon of hope for businesses and shoppers, especially in the face of economic challenges.
Reflecting on the previous year's data, it's clear that these shopping holidays have a profound impact on the retail landscape. Despite the economic downturn in 2022, Black Friday and Cyber Monday continued to generate substantial profits, demonstrating their resilience and the unwavering consumer appetite for deals and discounts.
In 2023, it's not just consumers dealing with rising costs
From rising supply chain costs, and shipping rates, to increasingly expensive COGS, it's not just consumers that need to watch their spending this year. Ecommerce businesses are up against a ton of expenses that are threatening to chip away at their profits this upcoming BFCM.
That's why in this article, we're sharing 12 key profit-optimization strategies for eCommerce managers to put into play this BFCM to maximize each and every profit opportunity and help increase your bottom line.
What do Black Friday, Cyber Monday look like as the world heads into a third year of the recession?
Economic downturns equal less spending and more saving, right? Not so fast. In 2022, people around the world spent more than $40 billion online on Black Friday. While 71% of consumers say they spent more or the same amount on Cyber Monday 2022 than they did the year before. In 2022, retail sales grew during the holiday season by 4.8% YoY and analysts predict a 4.5% growth in sales for 2023.


Source


That's good news for online merchants as it tells us that shoppers shopped smarter, not less, a trend that's set to continue in 2023. With people spending less throughout the year, many shoppers will be saving up to buy what they need when the Black Friday deals roll out.
12 proven profit-optimization strategies to level up your profitability this Black Friday, Cyber Monday
You might see 8 figures in sales this BFCM and still not make a profit.
It can be tempting to zero in on growing sales on Black Friday, Cyber Monday — funneling money into ads, sales sequences, and influencer marketing campaigns. But a huge spike in sales doesn't always mean a healthier bottom line.
While sales-focused strategies and overall revenue are important as you can't have profit without sales, they can't come without profitability-focused strategies that help make sure you stay in business survival and business health much after this Black Friday. That's why these strategies should be a key part of your definitive success criteria for 2023.
With more consumers and eCommerce businesses becoming conscious about how they can cut back their spending, optimizing your profitability should be the main focus of BFCM strategy for 2023.


Let's dive in.
Offer popular profit-friendly discounts

Focus on your VIPs — not just customer acquisition

Focus sales efforts on your most profitable markets

Drive profit from enhancing LTV with your customer data-base

Improve your profit for Ad Spent (POAS) Ratio and CAC

Hook new visitors with profitable loyalty-building discounts

Drive sales with profitable product bundles

Use BFCM to shift excess stock

Promote your most profitable shipping methods as an incentive to push profit up

Swerve losing money on product returns by predicting their likelihood

Uncover and optimize your biggest expenses

Promote the most profitable payment method that also cultivates loyalty


1. Offer popular profit-friendly discounts
As any eCommerce store owner knows — BFCM is all about driving sales through discounts. But if you're strategic about your approach to discounting and create them with profitability in mind then you should see more money in hand at the end of the BFCM sales.
To discount strategically, you need to put focus less on profit margin metric and more on contribution profit, customer acquisition, and the number of orders generated.
Check out your past discounts and look into the discounts that brought the highest contribution profit. You'll also want to see how many new customers they brought and consider their lifetime value and AOV.
Wise Advice: To bring in more sales and drive cash flow, pair your discount pricing strategies with less-margin-depleting hooks like free gifts or tiered discounts.


2. Focus on your VIPs — not just customer acquisition
While many eCommerce companies focus on customer acquisition during BFCM, research shows that just 19% of first-timer BFCM customers stick around after shopping with a business during the sales. Now, we're not saying it's impossible to turn these new customers into repeat purchases, but that's one for a different strategy.
For a successful BFCM, your VIPs are where it's at. VIPs spend 5x more and order 2x more during the holiday sales. While acquisition is key for growing your customer pool, you should put the first focus on your VIP customers to maximize your Black Friday, Cyber Monday profit.
Your VIPs, the ones that spend the most and come to your store again and again, should be one of your biggest targets for BFCM because they're already fans of your products. You know what they like and their purchasing patterns, and on top of that, you don't need to work so hard to get them to buy. The success rate of selling to a customer is 60-70%, compared to 5-20% when it comes to selling to a new customer.
And because you're not spending more on advertising to reach new audiences, focusing on your VIPs is a smart way to leave you with more money in hand this BFCM.
Putting the right strategies into play to make your VIPs feel valued and drive LTV
So, how do you hook your VIPs this BFCM? First, build buzz with targeted SMS and email marketing campaigns that feature sneak previews of your upcoming BFCM sales. Personalize these campaigns based on their purchase behaviour.
Show your VIPs some love by:
Dropping added perks like private collection, double loyalty points on their BFCM shops, or special VIP gifts

Giving them that extra small discounts that'll make them feel special and will drive more orders

Holding exclusive early-bird specials on their favorite products
Remember: increasing customer retention by just 5% can increase your profits by 25-95%. Do this by sweetening up their perks beyond what you're offering your other customers.
Source: Really Good Emails


3. Focus sales efforts on your most profitable markets
One way to max your profits this BFCM is by optimizing your marketing efforts for POAS (aka Profit on Ad Spend). Unlike ROAS (Return on Ad Spend), POAS factors in your profit margins for each product sale.
To optimize your POAS, zero in on the countries that have the best contribution margins when it comes to shipping packages. Even if these countries have low order counts and there for brought in lower contribution profits, you can potentially drive more profit by upping your marketing efforts for these regions.
Wise advice: for a double win on profitability — combine this strategy with bundling popular and profitable products (more on this later).


4. Drive profit from enhancing LTV with your customer database
VIPs are one of your most important audiences to target on BFCM — but they're not the only ones. You need to step up your customer marketing across BFCM.
So, how do you improve CLTV to drive profitability? That's easy, you need to make customers feel special. One of the best ways to do that is by rewarding them for their loyalty. Research shows that unique offers can have a huge impact on positive brand associations in the long run. Customers who received a $10 voucher had a 38% spike in their oxytocin levels (that's the feel-good bonding hormone) — helping them form stronger connections with a business and maximizing LTV.
This year, 'Black Friday creep' is predicted to continue with many retailers planning to grab more of the market share by hosting pre-Black Friday sales as early as October.
How do you capitalize on the early BFCM excitement and boost LTV?
Get ready for the shopping season early by offering loyal customers a 24-hour flash sale a month early, giving them the opportunity to grab what they want before it sells out.
Amp up the excitement for your flash sale using pop-ups and banners across your site, dedicated newsletters and SMS campaigns, and social media campaigns
Then, maximize customers' LTV by:
Offering them customer-only vouchers

Give your customers same-day shipping for free

Offer them exclusive deals on products that you won't offer to new site visitors

Offer loyalty-boosting early bird sales that combine personalization and exclusivity
Make sure your VIPs are in on these benefits — along with the ones we covered above.
Wise advice: to maximize your LTV and repurchase rates, tailor your BFCM offering to different customer segments with different psychographic profiles and shopping patterns. What you'll offer shoppers who seek innovative trendy products, you can't offer to bargain hunters.
5. Improve your Profit On Ad Spend (POAS) Ratio and CAC
BFCM marketing tends to decrease Customer Lifetime Value because of the epic discounting and increase CAC because of the epic competition driving up ad costs. What's an eCommerce business to do? To max profits, you need to optimize these factors.
Increase new BFCM customers' CLTV:
Upsell them in your order confirmation emails. Encourage them to buy more from you by letting them know they can add more products to their cart without paying more for shipping.

Leverage the shopping rush by sending them a discount on their next purchase that they need to use in the next 24 hours

Customers love interactive content, they love it even more when it comes to them! Which doubles up as a sneaky way to find out more about them. Send your new customers a short and fun quiz to understand their product preferences, shopping habits, and lifestyle, and use the results to personalize your future offers.

Send new customers product education emails showing them how to get the most out of your products.

Shoppers want to connect to the people behind the brand. Are you big on sustainability, worker's rights, or "clean products"? Share your values and become their preferred place to buy from.

Make the buying experience flawless — make them remember you for their next purchase, by dropping in coveted free samples or cool freebies.

Use UGC video ad solutions such as

Uplifted

to showcase real customer stories, adding a touch of authenticity to your campaigns.
As at least most of your site offers strip discounts, you need to work hard on your upselling strategies. To manage CAC, bring in some tactics to help motivate consumers to fill up their carts.
Increase BFCM cart size:
Offer total look special BFCM deals

Personalize your upsells by suggesting your most profitable products. Ones that, after deducting all expenses, give you the highest contribution margins or contribution profit in hand.

Offering tiered discounts or applicable volume discounts is another winner here

Use steeply discounted products to hook customers and present them with full-priced items or items with less stip discounts

Don't forget to offer a minimum cart threshold

higher

than your AOV to unlock free shipping
6. Hook new visitors with profitable loyalty-building discounts
To hook your BFCM visitors, optimize your homepage and special event landing page to showcase your most popular products and products your customers previously looked at, and match these items with the discount that shows the highest repurchase rate and LTV.
Review the discounts you've offered throughout the year, with a focus on last year's Cyber Monday sale. Offer the discounts that led to high LTV and repurchase rates at relatively high-profit margins or AOV.
7. Drive sales with profitable product bundles
Everyone pushes their best sellers on BFCM. Spoiler: these aren't always your most profitable products. While you can hook consumers with your top-selling products, you need to choose the products that have the biggest positive impact on your bottom line.
Bundles are psychologically enticing because they increase customers' perceived value — they feel like they are getting more for less.
"Save with sets": Glossier




You can optimize your profits and increase your sales by offering tiered spend rewards to customers who hit a certain spending threshold.
Don't just offer a 15% discount to consumers who spend $100. Offering a tiered discount should be strategic as well. As goes for everything in marketing strategies, personalization is where it's at.
To personalize your discounts, create smart segments of customers based on their average purchase spend and match your offering to their usual cart size and push them up.
Balance their budget limitations with increased spending incentives but remember, check your discount rates' impact on your bottom line so it won't start to negatively impact profitability.
8. Use BFCM to shift excess stock
Much of your BFCM profit-optimization strategy can be driven by shifting excess stock. An oversized inventory can weigh down your cash resources. From inventory space to insurance — these hidden costs can be unexpected drains on your company's profitability.
As Dany Couillard, Director of Business Restructuring at BDC, says: "This is little-known, but every dollar of inventory that a company holds over its ideal level generates 20% to 30% of additional costs."
Identify products that would perform better with a discount or sale, this includes products that have been on the site for over 90 days, have a higher days-to-finish inventory than the shop average, and don't yet have a discount.


You can also use these products as a hook to increase your AOV by offering them as a free gift when customers hit a certain spending threshold. This strategy is also a great approach for optimizing your profitability in the long run by improving customer satisfaction—90% of customers say that a free gift increases brand loyalty.
9. Promote your most profitable shipping methods as an incentive to push profit up
Free shipping had the biggest influence on buying decisions during Black Friday — holding 49% of the sway on consumers' buying decisions. While 32.7% of consumers say they plan to shop in-store to skirt shipping costs and delays — meaning free, fast shipping is more important than ever. How can you give consumers what they want and still increase your profits?
Every online store knows to set a minimum cart threshold to increase AOV.
Note: According to data, the perfect threshold for free shipping that'll nudge your customers to spend more without putting them off is no more than 20% higher than your average AOV.
But you aren't everyone. You want that extra profit-maximizing edge.


Then check the carrier's highest contribution margin shipping method and offer it free in as many locations as possible


Wise advice: Also consider your carrier's AOV, LTV, and repurchase rate. Promoting carriers with these metrics in mind will boost your profits.
Metrics like High AOV, LTV and repurchase rates highlight which carriers your customers trust. By choosing the carriers that are a go-to option for customers, you'll build a more loyal and trusting customer base, which means good things for your profitability.


If you know this shipping data ahead of time, you're already way ahead of your fellow store owners for the BFCM rush.


10. Swerve losing money on product returns by predicting their likelihood


Many consumers go big on Black Friday and Cyber Monday — only to regret their impulse spends later, with 1 in 3 consumers returning what they buy during the sales. No matter how many sales you see during Cyber Week, product returns will have one of the biggest impacts on how much money you're left with weeks after the sales end.
One way you can deal with returns is by analyzing which products in your store have the highest return rates and avoid stipping discounting them as they come with added costs.


As well as working out which products have the highest returns rate, see if you can spot trends in your product returns. For example, maybe there's a connection between product returns and a specific location or shipping method. Optimize and adjust your BFCM strategy accordingly.


Wise advice: Bringing buyers as close to the real buying experience as possible won't just impact your return rates, but also increase sales and customer satisfaction. If a customer selects "didn't match description," as the reason for their return, there's a 66% chance they won't buy from you again. Don't let that happen.
11. Uncover and optimize your biggest expenses
What were your biggest expenses on last year's BFCM? For this year to be a success, you need to understand which expenses were the biggest drain on your business and know how to optimize them for 2023.




Review your most costly expenses and see where you can save. From utilities to processing gateway fees, there are many expenses to consider that could be impacting your profitability. Review your main expenses and see where you can make changes this year.
12. Promote the most profitable payment method that also cultivates loyalty
As a profit-first focused business you want to foster loyalty by as many methods as possible. This strategy leverages your payment processors.
See how many fees you're really paying for each processor, and how much you pay Shopify.




Wise Advice: make it easy to hit "pay." Add as many payment methods as your customers use — think: Buy Now, Pay Later; split payments, and accelerated payment methods like Apple Pay, Google Pay, PayPal, or Shop Pay.
How to effortlessly maximize on Black Friday Cyber Monday profits
Black Friday and Cyber Monday are all about driving sales for many eCommerce businesses, but it's easy to get caught up in zeroing in on customer acquisition and sales without taking the time to optimize profitability.
Selling more on Black Friday, Cyber Monday is great — but not if you're left with less money than you make. Put these strategies into play and go all in on maximizing profits on Black Friday Cyber Monday 2023.
You can use your own profit analysis methods or use our ready-made reports to identify exactly what is hurting and what is contributing to your profitability without a hitch.
Prepare your eCommerce site for potentially your biggest shopping season yet, get more control over where your money goes, and optimize your eCommerce site for profit first.